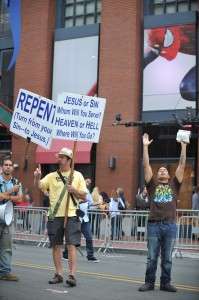 This spring I have ongoing personal business in Louisiana (school.) However rather then fly there and back, I have prayerfully decided to drive this trip instead. That will enable me to go on an open-air preaching tour throughout the many states. The church withing America must not forget her own Jerusalem, Judea, and Samaria.
My goal is to plow the fields of Louisiana, Arkansas, Oklahoma, Texas, New Mexico, Arizona, and then back to California. This evangelism will include heralding the Gospel into public places.
However to make this happen, I will need additional funding for this missions trip. Bear in mind the length of my trip will be based off how much of a budget I have. Hence, possibly spending one week in each state. Those expenses will include: gas, lodging, food, gospel tracts, bibles, etc.
If you would like to financially support this mission, your tax deductible contribution could make this happen. You can donate online with any credit or debit card, through our safe and secure online donations page; or you can send a check to IPOC – PO Box 8668, Redlands, CA 92375. You will receive a receipt for your own tax records.
"You are either called to go down into the well, or hold the rope for those who go down. Either way, there will be scars on your hands." HeartCry Missionary Society
"Do you want to go to heaven alone? I fear you will never go there. Have you no wish for others to be saved? Then you are not saved yourself. Be sure of that." Charles Surgeon
Your 'online' donations can be made here.
The public proclamation of the Gospel is foreign to most believers. Therefore to know more about this, please read my article "Attention church: Open-Air preaching is Biblical."
Please pray for this trip.
In Christ,
Bill Rhetts -Itinerant preacher